Broadcast Booth
So What About That Law !

Broadcasting at 10:30 am every Sunday morning only on 
WATD 95.9 FM
Co Hosts & Contact Information

| | |
| --- | --- |
| | |
|   | . |
Stacey Jordan, Mortgage Professional with HomeBridge Financials, 2048 Washington St. Hanover, MA , 774 454 8823
Stacey.Jordan@HomeBridge.us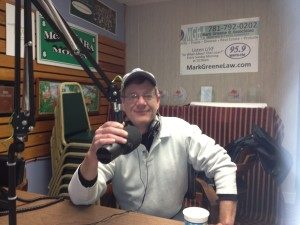 John Topham, CPA, with Damon Topham CPAs, 475 School Street, Marshfield, MA, 781 837 1993
JTTotham@DamTopCPA.com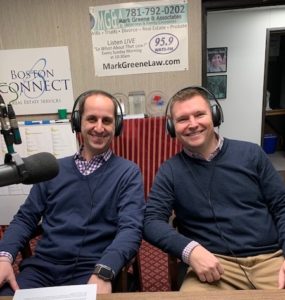 Blair Breton and Jason Bourque, financial advisers,  with Creative Wealth Solutions, 2048 Washington St., Hanover , MA, 781  347 3424

Blair : BBreton@CreativeWealthSolutions.net 
Jason: Bourque@CreativeWealth Solutions.net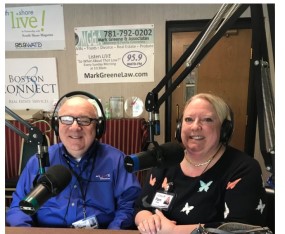 David and Pam Snell, IT Professionals  with ACT Smart IT, 1225 Corporate ParkDrive, #1225 Pembroke, MA, 781 826 9665
Pam@ACTSmartIT.com
2020  Co-host schedule
Jan 5       Pam and Dave Snell, ACT Smart IT, co-hosted we discussed the importance of changing those IT Passwords frequently. And what may happen if you don't. OH NO !!!
https://soundcloud.com/sowhataboutthatlaw/january-5-2020
Jan 12    Stacey Jordan & Montana Aldridge from HomeBridge Financials, Hanover  were to co host but found themselves knee deep in helping someone get the mortgage they needed to buy the home of their dreams…So we carried on without them. We discussed how to increase your credit score and what not to do during the mortgage application process…………….Take a listen.
https://soundcloud.com/sowhataboutthatlaw/january-12-2020
Jan 29   Let's get to know a couple of my new 2020 co hosts  Blair Breton and Jason Bourque from Creative Wealth Solutions of Hanover.  Jason and Blair  are trained professionals who can help you identify your financial needs and then determine which insurance and financial products can best help you meet your objectives. Check it out …
https://soundcloud.com/sowhataboutthatlaw/january-19-2020
Jan 31    John Topham, CPA, Damon, Topham & Company LLC, Marshfield
Feb 2      Pam and Dave Snell, ACT Smart IT, Pembroke
Feb 9      Stacey Jordan & Montana Aldridge HomeBridge Financials, Hanover
Feb 16    Blair Breton and Jason Bourque, Creative Wealth Solutions, Hanover
Feb 34    John Topham, CPA, Damon, Topham & Company LLC, Marshfield
Mar 1     Pam and Dave Snell, ACT Smart IT, Pembroke
Mar 8     Stacey Jordan & Montana Aldridge HomeBridge Financials, Hanover
Mar 15   Blair Breton and Jason Bourque, Creative Wealth Solutions, Hanover
Mar 22   John Topham, CPA, Damon, Topham & Company LLC, Marshfield
Mar 29   Attorney Mike Fleming, MG&A attorneys & family counselors, Hanover
Apr 5      Pam and Dave Snell, ACT Smart IT, Pembroke
Apr 12   Stacey Jordan & Montana Aldridge HomeBridge Financials, Hanover
Apr 19   Blair Breton and Jason Bourque, Creative Wealth Solutions, Hanover
Apr 26   John Topham, CPA, Damon, Topham & Company LLC, Marshfield
May 3    Pam and Dave Snell, ACT Smart IT, Pembroke
May 10  Stacey Jordan & Montana Aldridge HomeBridge Financials, Hanover
May 17  Joshua Singer, Financial Advisor, Edward Jones, Hanson
May 24  John Topham, CPA, Damon, Topham & Company LLC, Marshfield
May 31 Mental Health Counselor, Katy Hamilton, MG&A attorneys  & family counselors, Hanover
Jun 7      Pam and Dave Snell, ACT Smart IT, Pembroke
Jun 14    Stacey Jordan & Montana Aldridge HomeBridge Financials, Hanover
Jun 21    Blair Breton and Jason Bourque, Creative Wealth Solutions, Hanover
Jun 28    John Topham, CPA, Damon, Topham & Company LLC, Marshfield