News & Articles
NEWS YOU CAN USE !!!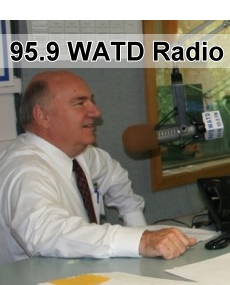 David Snell's Tech Talk Tuesday mornings at 8:11am
November 3, 2020
October 26, 2020
Massachusetts residents can track their ballots online.
October 19, 2020
Microsoft To Release a New Office License for Those Who Don't Want a 365 Subscription
October 6, 2020
US Treasury Warns of Sanctions Violations for Paying Ransomware Attackers
September 29, 2020
FALSE CLAIMS OF HACKED VOTER INFORMATION LIKELY INTENDED TO CAST DOUBT ON LEGITIMACY OF U.S. ELECTIONS
September 22, 2020
TikTok-Oracle-Walmart deal up in the air as details are disputed
September 15, 2020
Oracle Corp and TikTok
August 25, 2020
Microsoft kills off Internet Explorer after 25 years
August 18, 2020
August 11, 2020
How to tell if your smartphone app is spying on you
August 4, 2020
MyLife accused of posting misleading background reports
July 28, 2020
Garmin Confirms WastedLocker Ransomware Attack
July 21, 2020
How to bulk-delete Facebook posts
July 14, 2020
Windows 10 Security Game Changer
July 7, 2020
Apple Catches TikTok Secretly Spying On Millions Of iPhone Users
June 30, 2020
Amazon buys self-driving vehicle startup ZOOX
June 23, 2020
Malicious Chrome Extensions Downloaded Nearly 33 Million Times
June 16, 2020
Are you using Zoom?
June 9, 2020
Google Maps adds COVID-19 updates and related transit alerts
June 2, 2020
COVID-19" Thermal Cameras Start to Hit the Marketplace
May 19, 2020
Amazon files lawsuit against Alexa scammers
May 12, 2020
Coronavirus freebies: Companies giving out free stuff right now, and how to get it.
May 5, 2020
Protecting Your Kids as Their Screentime Increases
April 28, 2002
Protecting Your Kids as Their Screentime Increases
April 21, 2020
Fake Corona Antivirus Software Used to Install Backdoor Malware
April 14, 2020
Robocallers are Exploiting Coronavirus Fears
March 31, 2020
"You Are Infected" – Bad Guys Launch an Evil New Corona Virus Attack – PLUS – Zoom Bombing!
March 24, 2020
Don't Get Scammed
March 17, 2020
Free Software and Cloud Services During Coronavirus Outbreak
March 10, 2020
Coronavirus: Scammers follow the headlines
March 3, 2020
Amazon Opens Automated Grocery Store
February 25, 2020
Ring Announces New Security Protocols For Its Cameras
February 18, 2020
5 IRS Tax Scams To Watch Out For In 2020
February 11, 2020
February 11th is Safer Internet Day in the U.S.
January 28, 2020
Tuesday, January 28th is Data Privacy Day

January 21, 2020
Microsoft and the NSA warn of a security bug affecting millions of Windows 10 computers
January 13, 2020
RIP, Windows 7. Upgrade to Windows 10 for FREE
December 24, 2019
NORAD is getting ready for its annual Santa Tracking Mission
December 17, 2019
Facebook learns what you buy at brick-and-mortar stores in order to show you relevant ads — and how you can opt out
December 10, 2019
Mobile Cyberespionage Campaign Distributed Through CallerSpy
December 3, 2019
12 Scams of Christmas
November 26, 2019
Microsoft takes a step back concerning Windows 7 end of life
November 19, 2019
DISNEY+ 'HACK' PANIC STRESSES WHY YOU NEED TO USE UNIQUE PASSWORDS
November 12, 2019
Experts are sounding the alarm – Hackers can hijack Alexa using a laser pointer.
October 29, 2019
Do you have any of these apps on your iPhone?
October 22, 2019
Is Google dealing a death blow to Waze?
October 8, 2019
Facebook puts $10m into effort to spot deep fake videos
October 1st
Amazon improves Alexa privacy with new delete options
September 24th
New security warning issued for Googles 2 Billion Chrome Users
September 17th
Amazon changes search algorithm to boost it's more profitable products
September 10th
Apple to host launch event on Tuesday September 10th
August 27, 2019
A Security Bug Has Been Haunting Windows for Over 20 Years
August 13, 2019
"Microsoft ends one-off Office licenses from its Home Use Program"
August 6, 2019
"WARNING: Everything you've ever posted on Facebook becomes public tomorrow!" – WRONG!
July 30, 2019
Will Deleting FaceApp Protect Your Privacy?
July 2, 2019
After 18 years, Apple is saying goodbye to iTunes
June 25, 2019
Windows 10 users exposed to a new vulnerability  
June 18, 2019
Amazon now lets you tell Alexa to delete your voice recording
---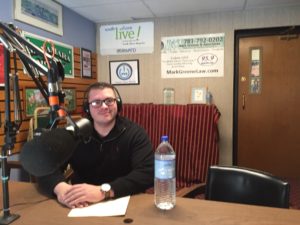 Joshua Singer
Mark's  financial adviser with Edward Jones co-hosted  a recent  show . They  discussed the many financial scams out there aimed at our vulnerable senior citizens. If you or your parents could be in this position this show is for you. They offered  many tips to avoid being a victim…
---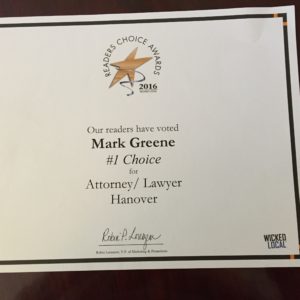 Mark Greene voted #1 Choice for Attorney in Hanover 2016  !
MG&A Attorneys Mike Fleming and Mark Greene discuss life and estate planning documents on Marshfield's Community Cable TV . Click on the link below:
Attorney Mark Greene discussed the myths and set the record straight about reverse mortgages on Marshfield's Community Cable TV. Click on the link below:
https://vimeo.com/marshfieldtv/tott31215
CPA John Topham and Attorney Mark Greene discussed the various business entities ( IE Partnership, LLC, LLP, S Corp, C Corp etc. ) and the liability and tax issues of each. So if you have a business or are considering staring up a business this show is for you ! Click on the link below:
https://soundcloud.com/sowhataboutthatlaw/so-what-about-that-law-august-28-2016